Greetings from iTrade Marketing
Our Business
At iTrade, we believe that good healthcare and a healthy lifestyle is the best template you can have for yourself. That's why we're committed to the excellent standard of bringing the best of consumer healthcare products. Our consumer segment includes a diverse range of top quality products specially sourced around the world and offered to our clients at competitive prices. We carry many well-acclaimed recognitions like International Organization for Standardization (ISO) and Food & Drug Administration (FDA).
Establishing a start up focus of nurturing the domestic market with the benefits of Korea Nano Technology Toothbrushes since 2008, our special toothbrushes have since paved it's way to our loyal customers, Tan Tock Seng hospital retail pharmacy, independent dental clinics, organic stores and healthcare retailers.
Online Shopping: Enjoy the convenience of shopping online with us without leaving your home. Enjoy free gift & local delivery for purchase above $100!
Our quality assurance strategy reflects a continuous effort from all of us at iTrade. Product samples are tested in-house to uphold the company's assurance to deliver quality that satisfies.
Our Philosophy
We are committed to deliver the very best in healthcare products sourced globally because you and everyone at home deserve the best.
Employee trainings are conducted regularly to equip our employees with the latest product knowledge, skills and service excellence.
Social Welfare: We provide sponsorships & in-kind contributions to community events, fundraisers and etc.
Our Good Reputation
Through word-of-mouth referrals, iTrade is confident of the sustainability in our home market. We thank all of you, loyal customers & purchasers, for your continued patronage of our products.
Whatever your healthcare needs, we have products to suit your needs.
We pride ourselves on providing quality after-sales service, prompt deliveries and efficient responses to queries. Speak to us today!
Important Note
Authentication label, iTrade Marketing.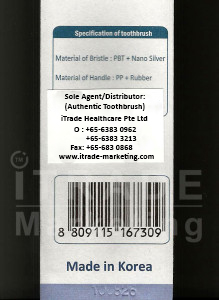 Approach only the Sole Agent – iTrade Marketing and any of its authorized retail outlets only. To help ensure you are buying authentic iTrade products, look for the iTrade Marketing authentication label.
Refer to Outlets for more information.
Free local delivery with purchases above S$100.
* Terms and conditions apply.
 Non-refundable, non-exchangeable, and non-returnable.